Woven space: Architecture and tapestry
An upcoming design competition promises to reinvigorate the connection between architecture and textile art, and hence human experience and the built environment.
There is a long-standing historical connection between architectural space and textile art, and in particular, tapestry. Rare tapestry remnants have been found in Greece dating from the 3rd century BC and the tapestry-laden walls of European museums and palaces are very familiar to us. The longevity of this art form over the centuries makes my 15-year connection with it via the Australian Tapestry Workshop (ATW) pale into insignificance. Time is not the relevant metric, however, when measuring the alchemy that occurs in the creation of tapestry—this is timeless.
Significant wall hangings have been created around the world and used in a myriad of configurations for functional, decorative, celebratory and didactic purposes, with a clear knowing of their 'other' underlying capacity to modify thermal and acoustic conditions within interior built space. Tapestries have ranged from monumental formats in great public and private buildings down to small-scale intimate works for personal enjoyment. Often underpinned by great wealth, they have been traded and presented as gifts to leaders for hundreds of years across countries and societies. They show enormous scope, having been used for traditional designs employing historical and mythical themes, to being utilised as a preferred medium by avant-garde architects and artists at the beginnings of the modern movement in Europe.
From their earliest history to the full integration of textiles into the comprehensive design program of the Bauhaus in Germany under Walter Gropius (1919-28) and later under Mies van der Rohe (1930-33), tapestries have been linked intimately with built space and its creation. One only has to think of the great architect Le Corbusier and his integration of textiles with architecture, including his own masterfully self-designed epic tapestries, to understand the significance of placement in architectural space.
William Morris in the 19th century and the contemporary French artist Jean Lurcat paved a way for others to follow, including internationally influential artists such as Picasso, Calder, Leger and Miro, who used the mediums of tapestry and textile as key platforms for their work.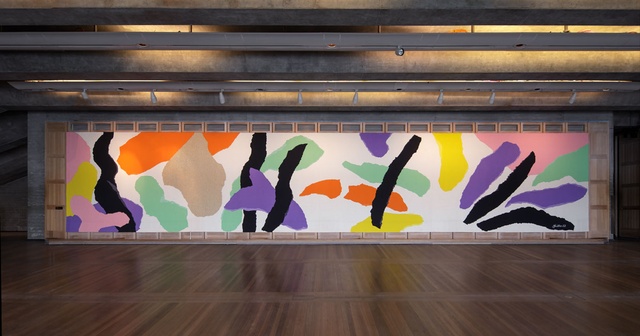 A point to note is that the realisation of the two great tapestries for new Parliament House and the Sydney Opera House came via collaboration with the ATW. In fact, most of the ATW tapestries are designed with a specific location in mind, and architectural considerations often have a great effect on the designing artists and the weavers when they create a commissioned work. In our Australian context, the architect and enthusiastic champion of integrated art, Aldo Giurgola of Mitchell Giurgola Thorpe, included the monumental Arthur Boyd tapestry Untitled (Shoalhaven Landscape) in the new Parliament House in Canberra. Harry Seidler, European émigré and pioneer Australian modernist architect, included great tapestry works in his local buildings. Jørn Utzon, responsible for the world-acclaimed Sydney Opera House, designed his tapestry Homage to CPE Bach for the Utzon Room in that same building.
Ainsley Murray in her marvelous review of an installation by Sandra Selig at the MCA in 2004 (Artlink magazine vol. 25, #1) wrote perceptively and provocatively about architecture and intervention:
"Architecture has long since surrendered the tactile in favour of grander visions. Processes of digitisation, prefabrication and mechanisation have lead to the widespread abandonment of the human hand in architectural practice, and private eccentricities are now buried, smoothed over with flatter, more uniform design solutions. Recalcitrant fingerprints and other imperfections have dissolved from all but the vernacular and indigenous architecture of Australasia. The question is, how might we reconsider our relationship with built matter to restore a direct connection with human experience? I suspect the clues lie not in architecture, but in contemporary installation."
An upcoming design competition promoted by the ATW will reinvigorate this connection between architectural built-form and textile art. It will help to build an awareness of tapestry as a relevant medium that sits comfortably within the materiality of contemporary architectural thinking, providing another tool that architects can draw on in response to this increasingly complex and challenging world.
As Ainsley Murray concluded in her article: "Perhaps the handmade in architecture is nothing to do with the physical character of buildings, but entirely to do with how we engage with them in our enlivened and repetitious gestures. Not only is architecture rethought, but the relationship between being and building reconsidered."
Hear, hear.